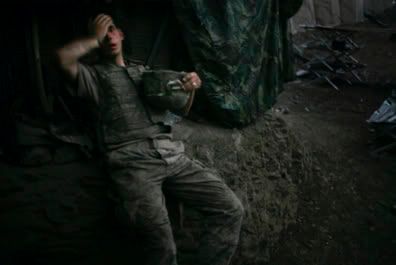 The winners of the 2008 World Press Photo contest were announced today. Here are five winners and to see all the winning images visit
www.worldpressphoto.org
.
Above, World Press Photo of the year 2007 by British photographer Tim Hetherington for Vanity Fair showing an American soldier resting at bunker, Korengal Valley, Afghanistan, Sept. 16, 2007.
First prize in the Arts and Entertainment Singles category of the 2008 World Press Photo contest by American photographer Ariana Lindquist showing a girl in a character costume, Shanghai, China, 2007.
First prize in the Daily Life Singles category by American photographer Justin Maxon, Aurora Photos, showing Mui, a homeless woman with HIV and her son bathe in the Red River, Hanoi, Vietnam 2007.
First prize in the Contemporary Issues Singles category by South African photographer Brent Stirton, Getty Images for Newsweek showing the evacuation of dead Mountain Gorillas at Virunga National Park, Eastern Congo 2007.
Third prize in the Sports Action Stories category by American photographer Chris Detrick, The Salt Lake Tribune.