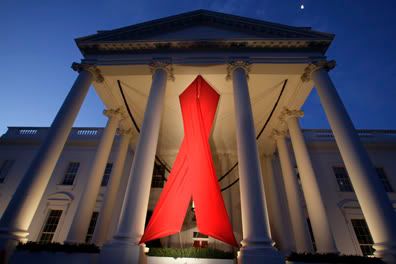 Worlds Aids Day is Saturday and here are three different perspectives shot Friday from around the World to mark the event. The top photo shot by Ron Edmonds shows the large AIDS ribbon hanging from the North Portico of the White House in honor of World AIDS Day.
The middle photo was shot by M. Lakshman and shows a 4-months-old female child, who is reportedly HIV positive, sleeping inside a cloth hammock at a Community Health Education Society orphanage in Chennai, India.
The third picture shot by Jacquelyn Martin shows students from the George Washington University chapter of the Student Global AIDS Campaign protesting outside the White House, calling on the federal government to "cut the red tape" around access to AIDS prevention and treatment.