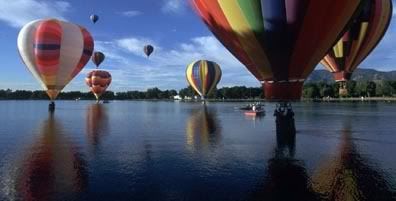 This weekend is the annual Colorado Balloon Classic in Colorado Springs' Memorial Park.
The balloons take off around 7 a.m. Saturday, Sunday and Monday. The balloon glow is Saturday and Sunday at 8 p.m. All events are weather dependent.
Gazette photographer Jerilee Bennett has shot the festivities for years and offers some advice to anyone shooting the event.
1) Don't bring a tripod in the morning. The more flexible you are the better and the light is good enough to use a faster shutter speed. A tripod can be useful at the glow.
2)Prospect Lake is a good place to shoot. The balloon reflecting on the water can make a nice image.
3) Try following the balloons in your car to get a different angle and background. She once capture a balloon landing in a field with the moon in the background.
4) Play with the light and angles. Have fun shooting with your camera.
5) Look for interesting people to put in the foreground of your photo. A child on the shoulders of his parent with the balloon in the background is an example.
6) Look inside the balloons for patterns and interesting shadows. Don't get in the way of the pilots.
If you get some nice pictures, send them to me at christian.murdock@gazette.com and I'll try to post some on our blog.