Track has to be my favorite sport to shoot. So many different angles and ways to capture the sport in photos. Here are some fun pictures from the World Athletics Championships in Japan.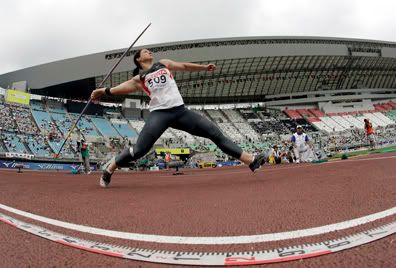 Associated Press photographer Thomas Kienzle shot the Women's Javelin with a fisheye lens.
Associated Press photographer David Guttenfelder shot this nice action of China's Li Runrun during the Men's Long Jump competition.
Guttenfelder also shot this funny picture of Mozambique's Maria de Lurdes Mutola sitting on top of a photographer after pulling out of the Women's 800m.