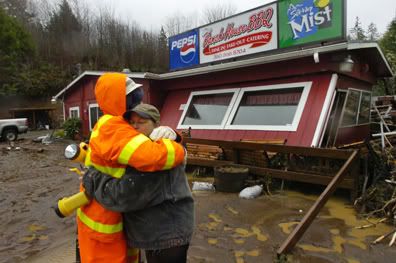 Olympian photographer Steven Bloom covered the storm damaged Ranch House BBQ near Olympia, Wash., Monday and co-owner Melanie Tapia receiving a hug from Ginny Wallace, a friend and DOT worker who stopped by to check on them after a wall of mud destroyed the restaurant.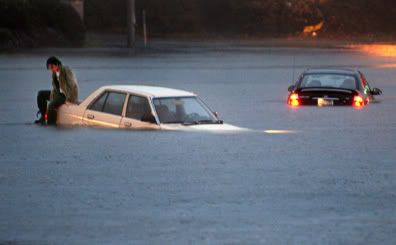 Olympian photographer Steven M. Herppich captured this stranded motorist stuck in the middle of an Olympia, Wash., street as flood kept rising.
Seattle Times photographer Steve Ringman was with Woodinville firefighters, Jesse Disch, left, and Justin Ralph as they pull residents and their pets from their apartments in Woodinville, Wash.
Seeing theses images from the Northwest brought back a lot of memories for me. I grew up in Seattle and worked in Oregon for five years. In 1996 I covered the Oregon floods and mudslides that left a family dead, many homeless and closed Interstate 5. Covering storms like that can be tough physically and mentally. First, keeping your equipment dry is impossible. I lost a camera body and a strobe in the mud and rain. I even lost my muffler and tailpipe on my car while escaping the rising Umpqua River. Second, you are cold, wet and dead tired as you work around the clock. And third, it hard to see people in your community lose everything. In Oregon, I had to cover the funeral of the mother, father and family friend who died in the mudslide. It's not easy, especially when the people you are shooting are your friends and neighbors. Covering events like this are a rush. Don't get me wrong. But they take their toll.