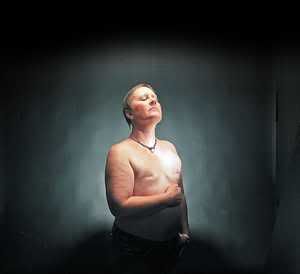 The Arizona Daily Star ran this photo of cancer surviver Shawn Reuss last week on the day of the annual Susan G. Komen Race for the Cure in Tucson. Reuss, who found out she was cancer-free just a couple days before the photo ran, was one of 800 breast cancer survivors who participated in the event. The photographer Mamta Popat said she didn't want to shoot a medical-type picture of Reuss, but one that was more like art. Reuss said she was comfortable with the photo idea, even though more than 200,000 people would see it. Readers responded to the photo. Some applauded Reuss' courage while others were upset that the paper would run such a "crude, degrading and insulting" photo. Photo editor Rick Wiley said he thought the photo was an appropriate one considering the day's event. The photo "showed Shawn's defiance in the face of cancer," he said. "Even though the cancer had taken part of her body, she made it through and she was going to live her life."
No question the photo's message is powerful, even disturbing. But the photo really makes me feel for breast cancer survivors and what they have gone through.
Would The Gazette run such a photo? I don't know. But either way, we would thoroughly discussed it in the newsroom before the decision was made.
By the way, the Arizona Daily Star didn't run photos of Virginia Tech shooter Seung-Hui Cho with his weapons as we did in The Gazette.
Daily Star Managing Editor Teri Hayt said "This community is still recovering from the University of Arizona nurses' shooting" in 2002. A gunman killed three instructors before killing himself. Those photos (Cho with his guns) "did not help tell the story," Hayt said. "You knew what was in his head-we didn't need to show the posturing."
There is now easy answer. I think the Daily Star made the right choice for their readers and we at The Gazette did same for ours. Sometimes newspapers need to show the world as it is. Good and bad. But if a newspaper runs a disturbing photo, run it for the right reasons. If the message is important enough, the photo should run, but running a graphic or disturbing without a strong message isn't fair to our readers. Send me your thoughts on the subject.