Gazette photographer Mark Reis captured local wrestler Henry Cejudo winning the gold against Japan's Tomohiro Matsunaga Tuesday, Aug., 2008, in 55kg competition at the Olympic Games in Beijing, China. Cejudo was a state champion at Coronado High School.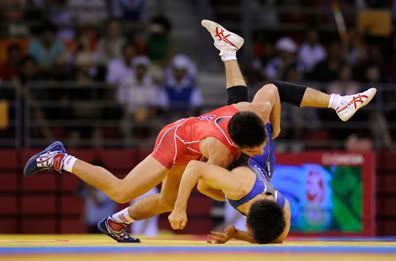 Cejudo takes down Japan's Tomohiro Matsunaga in the first period of Cejudo's Gold Medal win.
Cejudo is congratulated by friends and family after his defeat of Japan's Tomohiro Matsunaga for the Gold Medal. Clockwise from left they are, friend Eric Albarracin, brother Alonzo Cruz and sister Gloria Cejudo.