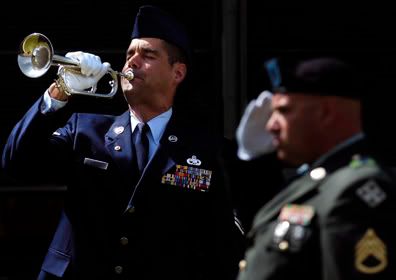 Living in Colorado we often take for granted the beauty that surrounds us and working at The Gazette I often take for granted the quality of photojournalism my co-workers do on a regular basis. Here are some examples of the work done by The Gazette staff in the last week. Above, Kevin Kreck shot this photo of Master Sgt. Scott Simpson blowing Taps for his son Sgt. Christopher C. Simpson and Staff Sgt. Michael D. Elledge during their memorial Thursday on Fort Carson.
Carol Lawrence captured this nice feature from Garden of the Gods on Thursday.
Bryan Oller shot the cattails in Fountain Creek Nature Center on Monday.
Mark Reis shot this nice portrait of Doherty High School track athlete Carly Allen for an Athlete of the Week feature.
Kirk Speer shot this picture of Air Academy High School's Hayley Bernstein, right, and Allie McLaughlin after their game against Heritage High School on Friday.